The Great Heath projects Poole
Last updated 30th October 2018
Project background
The Great Heath Living Landscape is an exciting partnership project led by the Dorset Wildlife Trust (DWT) and set up to develop an urban living landscape across South East Dorset. In April 2014 the project raised a total of £4.7 million to buy 20 lots (almost 1500 acres) of the Canford Estate for the benefit of people and wildlife.
The project aims to link two outstanding areas of natural heritage – the New Forest National Park to the Wild Purbeck Nature Improvement Area (NIA), with high quality access and interpretation to connect dozens of sites across the area.
Of the 20 lots purchased Borough of Poole has acquired three, with a combined area of 27.06 ha (67.32 acres) in the Broadstone and Merley area. This allows the creation of two new open spaces, Arrowsmith Coppice and Corfe Hills West, and the extension of a third, part of Delph Woods adjoining woodland already owned by the council.
Since the land purchase a fourth 'Living Landscape' has been created – Holes Bay Nature Park – as part of the network of protected land and habitat.
Project report
In Spring 2018 Dorset Wildlife Trust produced a Project Report summarising a successful end to a unique land purchase that has improved connections across and access to the countryside of south east Dorset; a copy is available to download below:
Index
Read about the site improvements in Poole:
About the sites
It had been a very long time since these spaces had been managed in any way and they all required development work to enhance their value to people and wildlife:
ARROWSMITH COPPICE is located to east of Gravel Hill Road and to the north of Arrowsmith Road, just to the north of Canford Heath SSSI. It is marked in red on the map (right, click to enlarge). Green marks areas of land already owned by Borough of Poole.
It is almost an arrow shaped area of 12.16 ha (30.05 acres), mainly of mixed woodland dominated by Rhododendron, with a small area of wet heathland in the north-east corner.
Arrowsmith Coppice is a Site of Nature Conservation Interest (SNCI) with a small section in the north-west corner that is also designated as Ancient Woodland.
Besides nature conservation, it has archaeological and historical interest. Sometime before 1948 a flint blade from The Upper Palaeolithic (between 50,000 and 10,000 years ago) was found near the junction of Gravel Hill Road and Arrowsmith Road, making it one of the earliest evidence of man in Poole. Slightly more recent are two bowl barrows in the eastern part of the site, from late Neolithic to Late Bronze Age, although most likely dating from 4,400-3,500 years ago. Each of these bowl barrows will be covering a single or multiple burial and as far as is known have never been excavated. Often these acted as a focus for burials from later periods. The southern barrow has a mound which is 19m in diameter, while the second barrow, which is to the north-west, is smaller at 12m in diameter and is slightly lower in height. The quarry ditches to make the mounds are no longer visible on the surface around either mound but will survive as buried features approximately 2m wide. These barrows are protected under law as a Scheduled Monument.
More about Arrowsmith Coppice, the Great Heath site at Dorset Wildlife Trust
CORFE HILLS WEST is a 5.8 ha (14.34 acre) triangular area of mainly heathland with a fringe of woodland, by the northern boundary of Corfe Hills School alongside Higher Blandford Road. On the western side it is bounded by The Roman Road, part of which is designated a Scheduled Monument.
The land acquired by this project is marked in red on the map (right, click to enlarge).
The whole site is designated as a Site of Special Scientific Interest (SSSI), Special Protection Area (SPA), Special Area of Conservation (SAC) and Ramsar site for its heathland wildlife.
On the opposite side of Higher Blandford Road are three more parts of Corfe Hills SSSI that are owned and managed by Borough of Poole. Plus another area owned and managed by the Amphibian and Reptile Conservation Trust.
Corfe is derived from the Old English word for 'pass', as in 'pass between hills'.
DELPH WOODS is 9.10 ha (22.48 acre) of mixed deciduous woodland with areas of Scots Pine, a small area of dry heath, lake and carr woodland. It is in three sections on the western side of Gravel Hill, to the north of Dunyeats Hill (another Great Heath Project site now owned and managed by Amphibian and Reptile Conservation Trust.)
The site is divided into three by land already owned by Borough of Poole – the access road to the car parks in the woodland and the Blackwater stream to the south. To the west is the original area of woodland owned by Borough of Poole.
It is a Site of Nature Conservation Interest (SNCI).
The three new spaces acquired by this project are marked in red on the map (above, click to enlarge). Green marks the land already owned by Borough of Poole; the combined area of new and existing land owned at Delph Woods now totals 32.58 ha (80.5 acres).
The name Delph comes from old English word for quarry, these quarries are now the ponds and lakes in this area.
More about Delph Woods, the Great Heath site at Dorset Wildlife Trust
The 286 hectare (707 acre) HOLES BAY NATURE PARK stretches from Asda (opposite Poole Railway Station) to Upton Country Park and Hamworthy. The Nature Park was launched in March 2015 as a new initiative to bring together landowners, local communities and local businesses to enjoy and help to look after this very special place.
It is a Site of Special Scientific Interest (SSSI), Special Protection Area (SPA) and RAMSAR site.
It is one of the best places to enjoy the wildlife of Poole Harbour. The saltmarsh and intertidal mudflats are a haven for wetland birds, many of which feed on the rich invertebrate life of Poole Harbour's mud.
Species found here include the black-tailed godwit, little egret, redshank, kingfisher, oystercatcher, curlew, avocet, teal, wigeon, red-breasted merganser, spoonbill; bass, mullet, flounder, corkwing wrasse, gobies, clams and cockles; more than 80 species of marine invertebrates including king ragworm; woodland ground flora, saltmarsh plants and grassland with orchids.
The area north of the railway line is a bird sensitive area, due to its use by internationally significant numbers of feeding and roosting birds.
Further site details, together with annual Bird, Wildlife & Ecology reports are available at the Upton Country Park website
New Site Signage
New signage has been installed as projects progress at the various sites. The first were those in Corfe Hills area, where the newly acquired Corfe Hills West, and sites already owned by Borough of Poole and the Amphibian & Reptile Conservation Trust, together with land acquired by Dorset Wildlife Trust, have been combined to create Corfe Barrows Nature Park.
At Corfe Hills West we installed new site name signs and an information panel beside Higher Blandford Road, while at Ashington Cutting the old site name sign was replaced. Next to Ashington Cutting, Dorset Wildlife Trust has installed an information board at their new site of Ashington Meadow. In the future some of the cattle that currently graze Canford Heath Nature Reserve will be grazing this meadow during the winter time.
In May 2017 the main entrances to Arrowsmith Coppice were marked by site name boards and information panels, describing the history, wildlife and future of this wildlife area; our gallery above shows the signs at Gravel Hill. The information panels were designed by local illustrator and designer Maria Burns.
As the final stage of The Great Heath project (Autumn 2018) new site name boards were installed on three sites – Bourne Valley, Ham Common and Talbot Heath – with a new information panel by the car park in the middle of Delph Woods. The artwork and design of this information panel again by Maria Burns.
Arrowsmith Coppice
More than 30 acres of new open space for Poole
Volunteers worked at Arrowsmith Coppice during early 2015 helped tackle the wall of Rhododendron with great success. The thickest part of the jungle of Rhododendron (in the south west corner) was cleared by contractor; they cleared around the stream to allow installation of a bridge to connect the lay-bys on Gravel Hill Road and Arrowsmith Road, encouraging public access to the site. 
The before & after pictures below show the results of their work viewed from the lay-by on Gravel Hill Road; the photo also shows the newly installed gravel ramp from this lay-by.
Rhododendron clearance continued through February 2016, with both contractors and a large number of willing volunteers sustained by baked potatoes at lunchtime, cooked on the fire burning up the cut rhododendron. Armed with loppers and bowsaws the volunteers make a huge difference in just one day as can be seen in our photographs below. Further work in February included the installation of an access path to encourage people into the site.
BEFORE: Volunteers at Arrowsmith Coppice, ready to tackle rhododendron clearance
AFTER: Arrowsmith Coppice after rhododendron clearance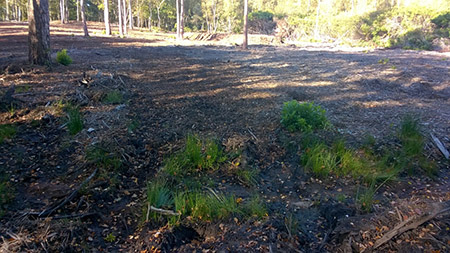 BEFORE: Arrowsmith Coppice before the path
AFTER: the new access path to Arrowsmith Coppice
In October 2017 the lay-by at Arrowsmith Road was resurfaced to improve and encourage access to the 12ha (30 acres) of Arrowsmith Coppice.
Corfe Hills West
More than 14 acres of new open space for Poole
During January and February 2015 trees were cleared by the side of the Roman Road in order to improve fire access, and vegetation cut back from beside tracks to ease public use.
In June 2015 dramatic improvements were made to access from Higher Blandford Road. What had been a very narrow track hemmed in by tall gorse and bramble is now a wide track allowing good public access and a route for Dorset Fire and Rescue Service (DFRS) to use in the case of a heathland fire. Gravel has been laid to improve the quality of access. As the clearance work had opened up the area a locked gate was installed to prevent illegal access; DFRS has a key to this lock.
Prior to this project the heath was obscured by a wall of gorse – now there is a lovely view across the site to Corfe Mullen (illustrated in the before-and-after photos below).
Delph Woods
More than 22 acres of woodland added to existing public open space
The new open space acquired at Delph Woods comes as three 'packages' along the western side of Gravel Hill, all adjacent to land that was already owned and managed by Borough of Poole; the combined area of new and existing land now totals 32.58 ha (80.5 acres).
During January & February 2015 birch and leggy gorse was cleared from a section of the woods and vegetation cut back from beside tracks to ease public use. Later on in the year further work was carried out to improve a track through the woods.
Holes Bay Nature Park
700 acres of inner harbour shoreline
Holes Bay Nature Park was created in March 2015 as part of the Great Heath project, bringing together Dorset Wildlife Trust with landowners, local communities and businesses to help protect an internationally important area of Poole Harbour.
In July 2016 twenty-one staff from MacDonald's branches across Poole, Bournemouth & Southampton came together to carry out a litter pick along the western shore. This is part of their 'Love Where You Live' campaign to help look after the local environment. They will be carrying out regular summer litter picks in this area of Holes Bay from now on, and in the winter time will help manage the scrub to aid a colony of the rare Small Blue Butterfly and rare plants.
MacDonald's sponsored two of the new information boards along the shoreline and on 30th August 2016 Poole's Mayor, Councillor Xena Dion, unveiled the board that stands on the site closest to Holes Bay MacDonald's, making a speech extolling the importance of the Poole Harbour wildlife and the value of working in partnership to protect it. After the unveiling MacDonald's staff from branches in Poole, Bournemouth and Southampton carried out another litter pick along the bay, helped by two children.
Budget £4.7 million total
Funding £2.7m Heritage Lottery Fund, £2m DWT donations, partners & fundraising
Poole Projects Officer Jez Martin
T. 01202 261338
E. environment@poole.gov.uk
The Great Heath Living Landscape
The Great Heath Living Landscape is a partnership of conservation organisations and local authorities, led by Dorset Wildlife Trust.
The partnership includes Borough of Poole, Poole Harbour Commissioners, Dorset County Council Countryside Services, the Erica Trust and Amphibian & Reptile Conservation Trust.
Project details at www.dorsetwildlifetrust.org.uk
Parks & Open Spaces Newsletter; please click here to subscribe to a regular copy