Upton Country Park new Welcome Centre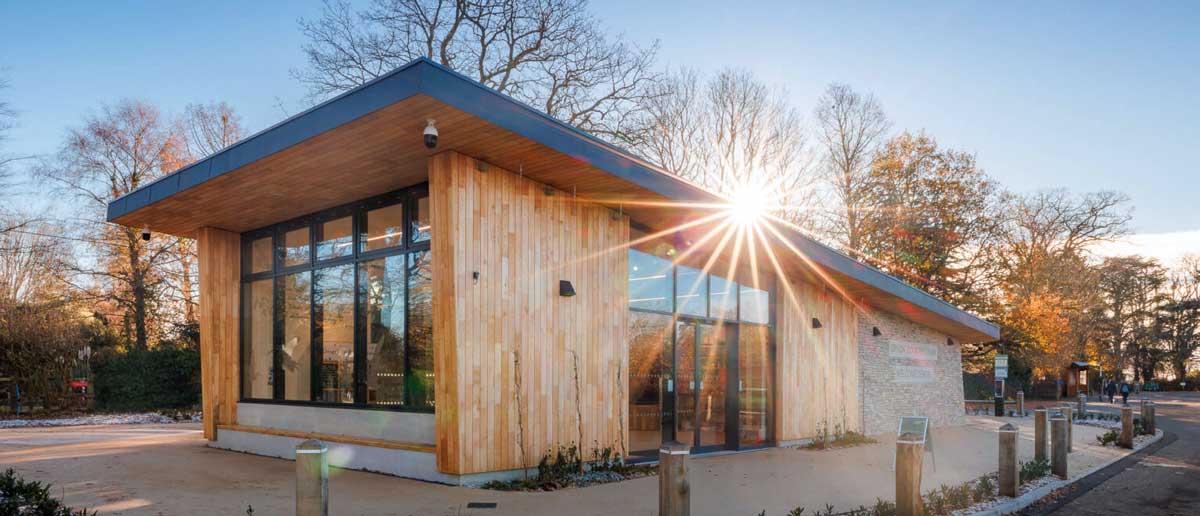 The new Welcome Centre was delivered as part of the Upton Country Park 'Discovery Project' and has been supported by The National Lottery Heritage Fund and National Lottery Community Fund, as part of its Parks for People programme.
Official opened on 16th December 2022 by the Mayor of Poole, Councillor Tony Trent, the iconic building is located in the main car park and will act as a 'front door' to the Country Park. 
It provides an accessible heritage attraction for visitors to relax, enjoy and learn in. Inside are interactive and immersive displays, bringing the park's history to life, giving a glimpse inside the Grade II* listed Upton House and exploring the importance of the varied landscapes within the park.
The centre also hosts facilities such as small gift shop, toilets, baby changing area and the DIY dog wash.
Built with sustainability in mind
Many sustainable building technologies have been incorporated into the design & creation of the Welcome Centre, and carefully considered materials such as dry stone walling and chestnut timber cladding.
The building boasts a bio-diverse living meadow roof, planted up with 34 species of wildflowers. A powder-coated, aluminium metal cladding fascia compliments the main atrium area, with the building benefitting from non-slip porcelain tiles and underfloor heating, partly fuelled by an air source heat pump.
Ample natural light is provided via large windows, a large circular skylight in the centre of the space (reminiscent of the circular roof lantern feature in Upton House), and several sun tubes set into the roof. Low energy LED lighting has been installed throughout the building.
Natural ventilation will cool the building on a hot summer's day through a combination of remote-controlled high level opening windows, creating cross ventilation by being able to hold open the automatic doors located on opposite walls, and opening the connecting door to the integral toilet block which in turn is open to the park.
Three bug hotels have been created and framed in dressed stone, located in the Purbeck walling, with a number of swallow nest cups and bat boxes installed to encourage even more nature into the park and around the building.
The doors into the Welcome Centre are on automatic movement sensors. Externally, the new perimeter courtyard includes bollards made with oak from the estate.
The Welcome Centre was designed by Western Design Architects (WDA) of Blandford. Main contractor for the project was Greendale Construction of Poole. Interactives & graphics were created for by Imagemakers of Okehampton.
Budget £876,000
Funding National Lottery Heritage Fund (part of a £1.9 million 'Discovery Project' award)
Architect Western Design Architects
Main Contractor Greendale Construction
T. 01202 127770
E.  uptoncountrypark@bcpcouncil.gov.uk
Parks & Open Spaces Newsletter; please click here to subscribe to a regular copy