Published 21st October 2022

The "Poole in Bloom" garden competition was relaunched this year with a new logo, publicity and small committee of volunteers – kindly supported by BCP Council and Compton Acres.
Bournemouth in Bloom Chairman Revd Chris Colledge enabled a joint training session to be held for volunteer judges from Bournemouth and Poole. Chairman David Bassil of Poole in Bloom provided guidance notes on judging criteria and the points system for awards. They both shared their experience and enthusiasm to enable volunteer judges to visit gardens in July. What a treat to see the vast range of plants and creative use of space – however large or small.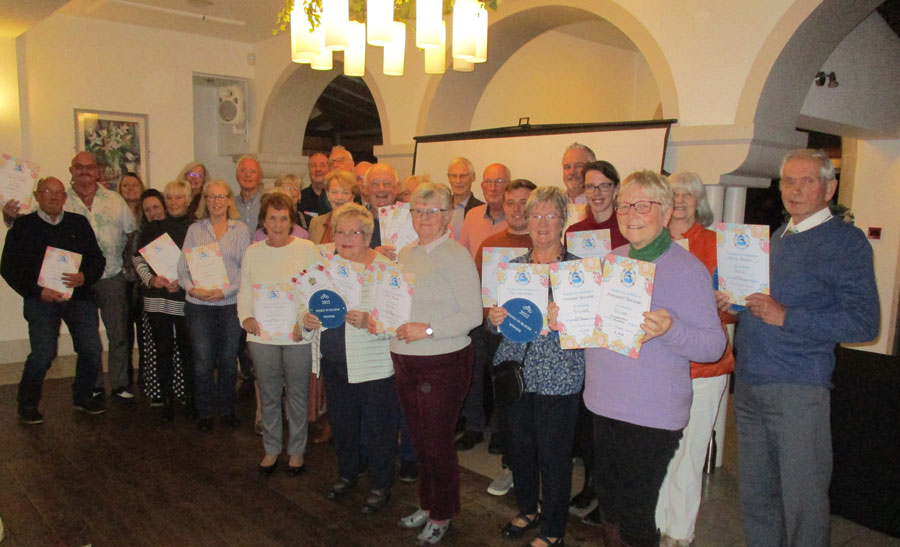 Poole in Bloom Award Presentation evening, held at Compton Acres on 19th October
The Poole in Bloom Award Presentation evening was held by kind permission of Kaye and Bernard Merna in the beautiful Italian Villa at Compton Acres.
The Mayor of Poole presented entrants with certificates of achievement – from Highly Commended to Gold – and winners of each category received a plaque to keep. A projected photo presentation provided attendees with a snapshot of the amount of care, attention, creativity and love of gardening and wildlife that exists in Poole.
We look forward to more entrants, judges and committee members next year. So if you have a passion for gardening – please take part.  Competition judging is usually in July, so now is the time for planning and getting creative!

Full 2023 competition details and Entry Form will be available at this page nearer the time.
The Poole in Bloom competition seeks to celebrate all the hard work that local community groups, households and businesses put in to make Poole a beautiful place to live.
Categories included Hanging Baskets, Patio, Balcony, Front Garden, Back Garden, Commercial & Public Spaces, Places of Worship, Trees, Environmentally Friendly Spaces and Sensory Gardens.
Parks & Open Spaces Newsletter; please click here to subscribe to a regular copy